Post by PolarStarQuote on Sept 30, 2017 19:58:38 GMT -8
[5 Hours Post First To Fall/Last to Lead.]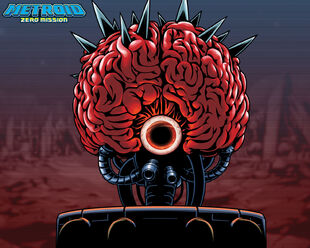 "So, You finally Awaken, Black Shadow."
The robotic voice of Mother Brain rang through the Dark, small living chamber, Displayed upon a massive screen. In a scramble,Black Shadow would snap up to see the visage of Mother Brain on Screen, Causing him to stand up to attention, Though wounded beyond belief, He was still smiling wide.
"A-aha...Haha...HAHAHA!! Mother Brain, Despite all ive done, You still pulled through to invite me back into your Ranks! Im...Im Thankfull, to say the least! I promise, My loyalty will never--"
"You've proven your 'Loyalty' Already. Samus Aran is already well on her way to bring caution around her and the life sphere to high scale." Mother Brain would say, Her eye staring Un-caring to Black Shadow's Situation, as she scowled at him. Black shadow, clearly afraid, backs down, as he nods. "S-so...You plan to kill me then...? Id hate to remind you, but, Ive had enough hearts and blasts to my head for that, a good life time now..." Black Shadow would say, as Mother brain blinked.
"On the Contrary, I wish to bring you back into my ranks." She would say, as Black Shadow looked back up, Gleefully nodding. "Y-yes! I see! Ill be a low grunt, Little more than an above average goomba! You're so Graceful for this--"
"Lower than that." Mother brain would say, as Black Shadow would stare confused, as suddenly, a Shadow would loom over the Bull Dressed man, Before a Tail, Bladed at its tip, Rammed through Black Shadow's Chest, Ripping through the muscle and spearing his heart out of his chest, Blood splattering onto the Screen that displayed Mother Brain's Uncaring gaze.
"I made a deal for someone far more Loyal than you. He asked that I allow him to bring you here...And allow him to play with you for a while." Mother brain would say, as from the shadows, The owner of the Tail was revealed...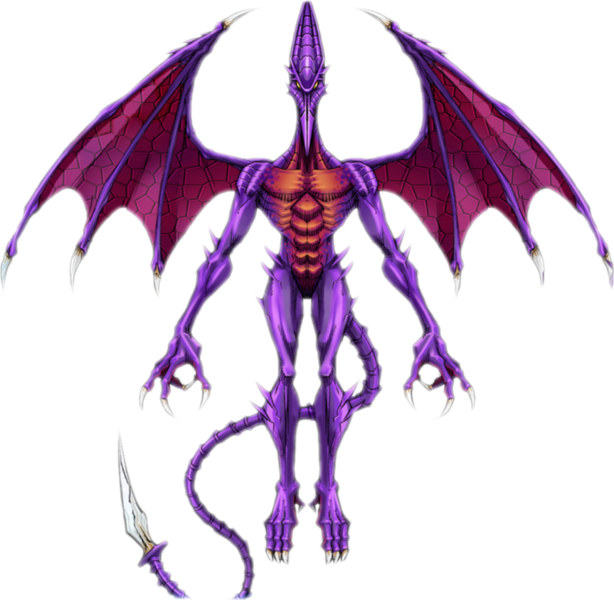 "...Thank you, Mother Brain." Ridley would say, Slamming the bleeding black shadow onto the ground with a flick of his tail, Making Black Shadow's Mouth splurt out in a mess of blood, Which was soon stopped, as Ridley's Clawed hand grabbed Black Shadow's Skull, Crushing it like little more than a Insect.
"Could i perhaps ask you for a moment of your time before you Kill that worthless one again?" Mother brain would ask, Stopping Ridley from tapping the Trophy's base to ressurect him. "What could possibly need to be said?" Ridley would hiss, angry at his buisness being interrupted.
"I just wanted to clarify the matter of our Deal, Ridley. Ive given you Black Shadow, But, Ive heard from some Infected, that you wished to add something else..?" Mother Brain would ask, as Ridley looked down at Black Shadow, before looking back.
"...I Kill Samus Aran. No one else may hurt her. " He would say, Clearly, With a aggressive look in his eye. "If anyone else kills Samus before me, I want to kill them as well." Ridley would say, as Mother brain stopped for a moment, before closing her eye. "I feel i can arrange Something to that end. Your Loyalty is appreciated Ridley...Black Shadow was a minor Wrench in our Plans. I feel this next step will help us finally achieve that final beacon of our plan."
With that said, Mother Brain would sign off, as Ridley tapped the base of Black Shadow's Trophy, Causing him to Sputter and scream in fear. "W-why?! What are you?! Why are you doing this?!" Black shadow would scream, as Ridley smirked. "...You want to know Why? Very well...Ill just cut out your Eyes, So you can Listen better." Ridley would say, as his Tail lashed out Black Shadow's eyes into a Blood cut, His talon grabbing his Mouth to stop Black Shadow's pained screeching.
"You know of the Earth's Creatures, Right? Imagine a Strong, Powerfull Lion, In a Savannah. One that Kills what it pleases, and demands respect across the entire kingdom...Imagine one day, That powerfull Lion, Is Challenged by a Cheetah. A Powerfull Predator, Versus a Powerfull Predator...And Loses."
Ridley's claw would grip tighter, Making black shadow squirm. "And now, Imagine that Lion, Attempting to avenge himself against that Cheetah, Again, And again, And again...And then suddenly...A Pathetic Peice of unworthy excrement like you, Comes along, and attacks her, Before The Mighty Lion can fight her, As he so deserves...That, Is why im killing you. Thats why, For the next Month of your life...Im going to kill you. And Wake you up. And Kill you. And Wake you up. And Kill you. And Wake you up. Over, and over, and Over and Over...So you Understand, That Samus Aran...Is MINE! Even once i wipe your memory..ill make sure you still remember it regardless."
With that, Ridley would slam Black Shadow into the ground, Taking a deep breath and blasting a firey mass of Plasma, Scorching Black Shadow Alive...
the Door to Ridley's Chamber would open, as a Space pirate walked in, with a Tablet showing the readings of a very specific life form, Somewhere deep underneath the Zebes Depth's...Ridley flashed a Smirk, Grinning.
"...Samus Aran. I can not think of a more worthy opponent to Die to. Nor one to kill...As you."